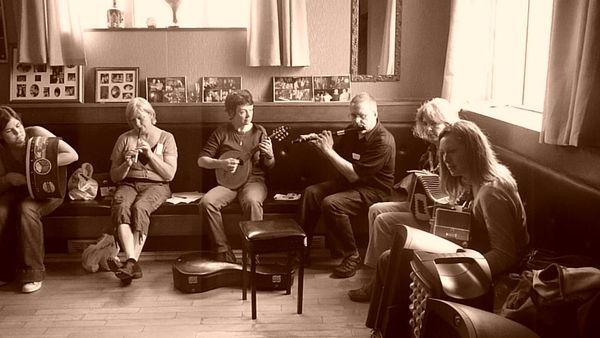 Will O'Hare performs Irish traditional music on wooden flute, whistles, and bagpipes throughout the New England region. He is a founding member of Full Gael, a principle musician for Old Sturbridge Village Museum, and currently developing a new project called Tradisiún.  
Will's earliest musical experiences began in high school, playing mandolin for the upstate New York bluegrass band "Blue Savannah".  He discovered Irish trad in college and began learning the flute and whistles.  After moving to Connecticut in the late 1980s, he began playing at local sessions and eventually created Full Gael with guitarist Gary Palmer and fellow flutist Matt Cooke.  The group has played with a changing lineup (but always including Will and Gary) for a variety of venues and festivals since the 1990s and launched a successful CD with fiddler Jeanne Freeman.  Full Gael performs mostly at Old Sturbridge Village these days and  includes Will, Gary, and concertina player Ben Gagliardi.

"I have fond memories of playing with Blue Savannah back in the day.  Certainly not your typical college garage band!  We played for various festivals, parks and rec summer concerts, and of course bars.  I learned my stage craft in those days and how to engage the audience.  These early experience have matured with Full Gael and I love playing in venues where you can talk directly to the listeners."

During the early Full Gael years, Will also played flute for various events at Old Stubridge Village Museum as part of their costumed interpreters.  He continues this today as a soloist and with the lads as part of the village's seasonal activities. He took up the Scottish bagpipes, spent five years as a Sunday morning radio host with WECS in Willimantic and finished a graduate degree in anthropology at the University of Connecticut.  The radio show gave him numerous opportunities to interview and become friends with some of the leading players in Irish trad.  A two year apprenticeship program with flutist Skip Healy, years of performing with Donegal fiddler PV O'Donnell (RIP), and numerous trips to Ireland have all blended into Will's sense of the music that he loves to share.
"Getting to talk to and play tunes with so many great musicians really helped hone my chops and gave me the chance to create my style and philosophy of playing Irish music.  So much of the tradition is about community and I continue to broaden mine through regular trips to Clare, sessions around Connecticut, and performances with various ensembles."

In addition to his flute/whistle performances, Will still occasionally plays Scottish bagpipes for weddings and ceremonies.  He is an associate professor of anthropology at Three Rivers Community College where he teaches courses on culture and music.  Most recently he began studying the Japanese shakuhachi (bamboo flute) and already senses a great potential for a crossover of musical influence.  He is developing a new ensemble called Tradisiún which will feature a number of New England performers in various combinations.  A new solo CD is already in the works with an anticipated release for March of 2015.